It's all about juice. Link juice. If you want your website to rank you need backlinks. Simple. Search Engine Optimization revolves around link building. Use these tools to spy on your competitors backlinks and get a useful insights into their link building activities. Any one up for a little reverse engineering?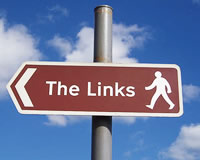 Many backlink tools are now only available to paid subscribers. But there are still a number of free backlink analysis tools available. Although free SEO tools might not be as fully featured as some of the paid for services the free SEO link building tools listed below are a must have for any SEO Ninja looking for link love.
Backlink Watch
Nice tool which shows you the anchor text, Google Pretend Rank, total number of outbound links on that page, and if the link is nofollowed. Uses the Yahoo Services API. Warning: it can be very slow! But the results are worth waiting for. Try Backlink Watch now.
Link Diagnosis
A Firefox extension. One of the best features of this tool is the "most popular anchor texts" report. It's still in the early stages stages of development but promises to be a great backlink analysis tool. Check out Link Diagnosis
Link Harvester
Link Harvester is a free link analysis tool from SEO Book. It's also open source so if you can code you can play around with it's functionality. It's a great little online link analysis tool and shows you unique domains linking to a site and their IP addresses. It can also highlight all those very important .ac.uk, .gov, .mil or juicy .edu links. Like most tools it uses the Yahoo and Google API to extract results and perform queries.
Hubfinder
Yet another tool from Mr Book, Arran Wall. Hubfinder looks for links which occur on all websites which rank highly for a specified term. Its results can give you an idea of sites containing powerful pages whoose link juice can provide a boost to search engine rankings. Try it out here.
Yahoo Site Explorer link: and linkdomain:
Yahoo's Site Explorer shows a good amount of linkage data. Although they don't show you 100% of the links they show much more than Google's effort. Here's the search operators you need to know in oder to extract backlink information from Yahoo Site Explorer.
linkdomain:www.site.com – this will show you the links pointing to a domain
link:http://www.site.com/directory/pagename.extension will show you links pointing at a specific page or file.
So what are you waiting for. Get analyzing! And get building links using the many link building techniques available. It's tough out there. Only sites with strong, diverse backlink portfolios will survive!
You can also consider getting help from seo link building services for they can tell you which of your backlinks are contributing the most results and which aren't up to par.